Box 459 is a quarterly news bulletin from the U.S./Canada General Service Office. This newsletter includes information about A.A. service, literature, events, sharing from groups, service committees and individual U.S./Canada A.A. members.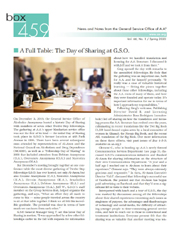 A Full Table: The Day of Sharing at G.S.O
On December 3, 2019, the General Service Office of Alcoholics Anonymous hosted a historic Day of Sharing with members of seven other Twelve Step fellowships. The gathering at A.A.'s upper Manhattan service office was not the first of its kind — the initial Day of Sharing took place in G.S.O.'s former location at 468 Park Avenue in 1991. There have been several subsequent ones attended by representatives of Al-Anon and the National Council on Alcoholism and Drug Dependence (NCADD), as well as a "Fellowship Day of Sharing" in 2008 that included attendees from Debtors Anonymous (D.A.), Overeaters Anonymous (O.A.) and Narcotics Anonymous (N.A.).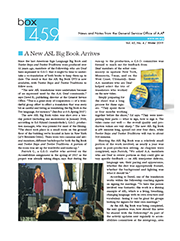 ASL Big Book Arrives Vol. 65, No. 4 / Winter 2019
Since the last American Sign Language Big Book and Twelve Steps and Twelve Traditions were produced over 15 years ago, members of the Fellowship who are Deaf have expressed to G.S.O. that it might be time to undertake a re-translation of both books to keep them up to date. The result is that the ASL Big Book DVD is now available.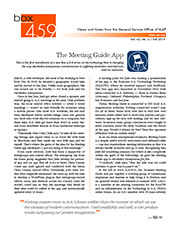 The Meeting Guide App Vol. 65, No. 3 / Fall 2019
This is the first installment of a new Box 4-5-9 series on the technology that is changing the way Alcoholics Anonymous communicates to suffering alcoholics and interacts with its members.

Read Full Issue On-Line Here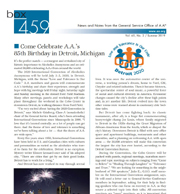 Come Celebrate A.A.'s 85th Birthday in Detroit, Michigan Vol. 65, No. 2 / Summer 2019
It's the perfect match — a resurgent and revitalized city of historic importance to Alcoholics Anonymous and an estimated 50,000 celebrating A.A.s from around the world.

Read Full Issue On-Line Here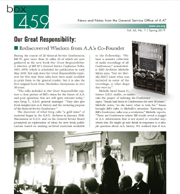 Our Great Responsibility: Rediscovered Wisdom from A.A.'s Co-Founder Vol. 65, No. 1 / Spring 2019
During the course of 20 General Service Conferences, Bill W. gave more than 33 talks, 16 of which are now gathered in the new book Our Great Responsibility: A Selection of Bill W.'s General Service Conference Talks, 1951–1970, which is scheduled for publication in early May 2019.

Read Full Issue On-Line Here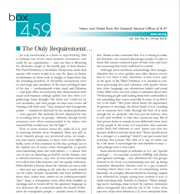 The Only Requirement… Vol. 64, No. 4 / Winter 2018
The only requirement for A.A. membership is a desire to stop drinking. This is perhaps one of the most inclusive statements ever made by an organization — and one that is lifesaving for alcoholics caught in the deadly grip of their disease.

Read Full Issue On-Line Here