To submit an AA event, group anniversary workshop etc. to the A.A. District 23 Events Calendar Send flyer and event information to…

Share A Day Planning Meeting 2020
January 5, 2020
@
12:00 pm
–
2:00 pm
Please come help plan our Share A Day event!
The annual Share A Day planning meeting will be held on Sunday, January 5th 2020 from Noon to 2 pm. Please come help plan our Share A Day event with SEPIA that will be held on Sunday, February 16th at the University of the Sciences – McNeil Science and Technology Center.
This is a joint meeting hosted by SEPIA and the Eastern Pennsylvania General Service Area 59 to plan the 32nd annual "Share-A-Day" event. At the planning meeting we will decide on the theme, program, topics and responsibilities. We will ask for volunteers to sign up and get in service. Please come and share your input to help make this event a success.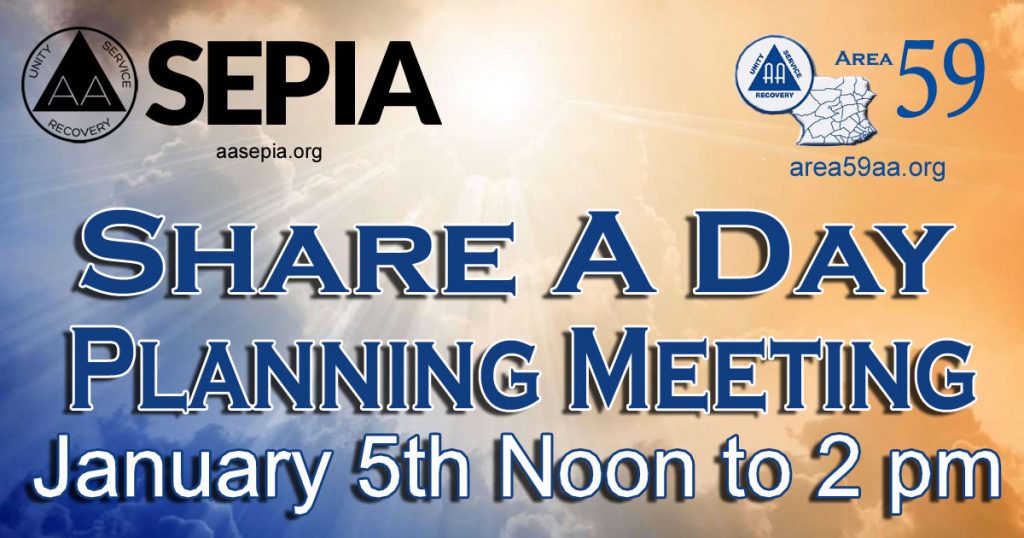 Our mission is to share the joy of service in our Fellowship and inform members of the benefits of General service and Local Intergroup service in a spirit of cooperation to better help our groups carry the message of A.A. to the still suffering Alcoholics in our community.