To submit an AA event, group anniversary workshop etc. to the A.A. District 23 Events Calendar Send flyer and event information to…

32nd Annual Area 59 – SEPIA Share A Day
February 16
@
10:00 am
–
3:00 pm
Come Enjoy A Day of Sharing and Unity
All interested members, Intergroup Reps, GSR's and DCM's from our five county area are encouraged to attend this jointly hosted event.
Lunch will be served. Food donations gratefully accepted.
Hosted By
Eastern Pennsylvania General Service Area 59
&
Southeastern Pennsylvania Intergroup Association
Location: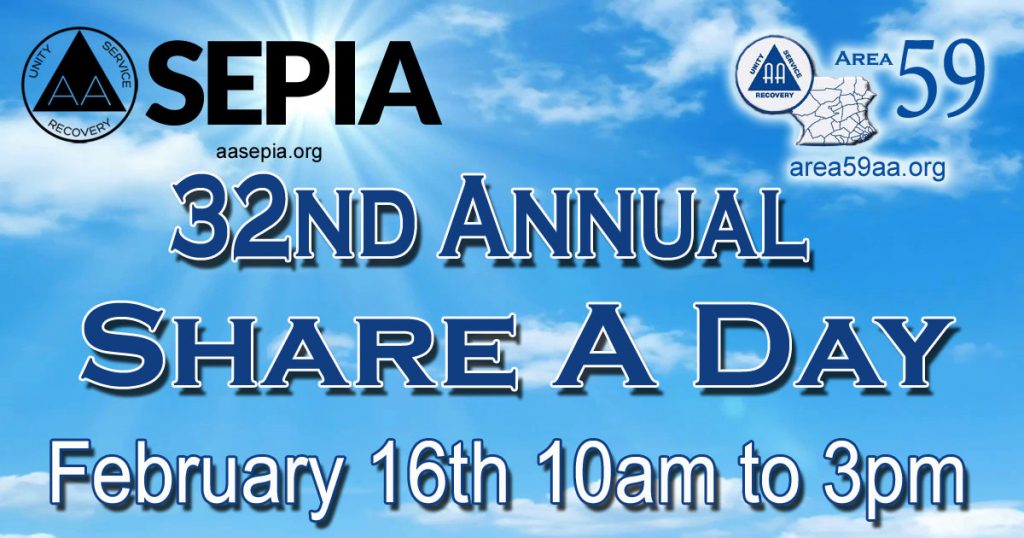 Our mission is to share the joy of service in our Fellowship and inform members of the benefits of General service and Local Intergroup service in a spirit of cooperation to better help our groups carry the message of A.A. to the still suffering Alcoholics in our community.